http://lucfr.co.uk/data-access-delete-form/ Ingredients: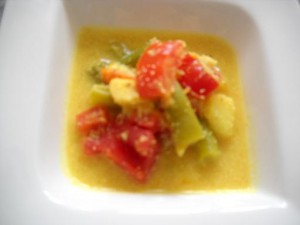 Potatoes ( cut long, 1/2),
Drumsticks (long cut and split, 1 cup)
Pumpkin ( long cut, 1 cup)
Yam ( long cut, 1 cup)
Carrots ( long cut, 1 cup)
Long beans ( long cut, 1 cup)
Tomato (chopped, 1)
Yogurt (whisked, 1 & 1/2 cups)
Green chilly (1)
Garlic (5)
Onion (chopped, medium size)
Curry leaves (few)
Cumin seeds (1 tsp)
Coconut (grated, 2 cups)
Turmeric powder (1/2 tsp)
Salt as per taste
Coconut oil (1 tsp)
http://preferredmode.com/wp-json/oembed/1.0/embed?url=https://preferredmode.com/2013/10/24/chombo/ Method:
Make a paste of onion, green chilly, cumin seeds, coconut, garlic, curry leaves & keep them aside.
In a vessel heat 3 cups of water, add potatoes, drumsticks, Pumpkin, Yam, Carrots, Long beans, turmeric powder, salt and cook till the vegetables become tender.
Add the coconut paste into the vegetables and mix well.
Add the tomatoes and cook for 3 minutes in a slow flame.
Add the yogurt and mix well.
Add coconut oil and salt as per taste.
Serve hot with rice
Recipe Courtesy Veena Nair