Naro-Fominsk INGREDIENTS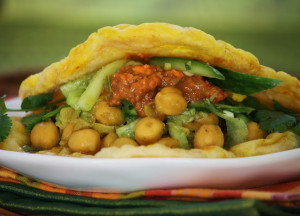 http://kirstincronn-mills.com/?p=428 For the Dough
1/3 cup warm water (100 110 F)
1/4 teaspoon sugar
1 teaspoon yeast
2 cups all-purpose flour
1/2 teaspoon salt
1 teaspoon ground turmeric
1/2 teaspoon ground cumin
1/2 teaspoon ground black pepper
For the Filling
1 (16 ounce) can chickpeas (garbanzo beans)
1 tablespoon canola oil
1 onion, thinly sliced
3 garlic cloves, minced
4 1/2 teaspoons curry powder
1 pinch ground cumin
salt & freshly ground black pepper
canola oil (for frying)
hot pepper sauce, for serving
finely shredded cucumber, for garnish
Directions:
To make the dough:
Place the warm water, sugar, and yeast in a separate small bowl. Set aside until the mixture bubbles.
In a large bowl combine the flour, salt, turmeric, cumin, and black pepper.
Stir the yeast mixture into the flour mixture and add additional lukewarm water as needed—about 1/2 cup—until the mixture comes together into slightly firm dough.
Knead until smooth and elastic and cover with a damp cloth.
Set aside in a warm place to rise until doubled in size, about an hour.
To make the filling:
If using dried chickpeas, drain, place in a pot with 6 cups of fresh water. Simmer for about 1 hour, or until tender. Drain and set aside.
If using canned chickpeas, drain in a colander and rinse well with cold water. Set aside.
Heat the oil in a heavy skillet and add the onion. Cook until translucent.
Add the garlic and stir well, frying for 1 minute more.
Add the curry powder and mix well.
Cook for 30 seconds and add 1/4 cup of water. Stir in the chickpeas, cover and simmer for 5 minutes.
Remove the lid and add 1 more cup of water. Stir in the cumin, and salt and pepper, and lower the heat.
Simmer until the chickpeas are very tender. Set aside.
Cucumber Chutney –
There are a variety of sauces and chutneys that can be used to spice up the basic Trinidad Doubles recipe, the most common of these are made from cilantro, hot pepper, mango, tamarind, cucumber, and coconut. Try this Cucumber Chutney to add an extra dimension to your doubles…
1 large – cucumber
1 tablespoon -cilantro
1 tablespoon – chives
1 – scotch-bonnet pepper (habanero pepper)
4 cloves – garlic
2 teaspoon – fresh lime juice
½ teaspoon each – salt and black pepper (adjust to taste)
¼ teaspoon – brown sugar
Julienne ¾ of cucumber into relatively small pieces. Cucumber seed and skin can be removed if you choose. We leave about a ¼ of skin to add color to chutney.
Grate remainder of cucumber and add to mixture, which adds moisture to chutney.
Finely dice garlic, cilantro and chives and add to mix.
Finely dice pepper without touching it if possible, you don't want to inadvertently get this pepper in, or near, your eye.
Gradually add the diced pepper to mix until it is spicy enough for your taste. Optionally, you may leave out some, or all, of the pepper, and use a tasty Caribbean pepper sauce to add the level of spice you desire when preparing individual Doubles.
Tamarind Hot Sauce (Recipe Courtesy of Eric Ackerson)
1 peeled carrot
2-3 hot peppers (not de seeded)
1 tablespoon of vinegar
a pinch of salt
1/4 cup orange or grapefruit juice
5 whole tamarind pods peeled and de seeded or about 1/8 cup of tamarind pulp
Whirl that food processor till everything has reached a nice consistency and then allow 1/2 hour for the flavors to meld.
Final Step
With all the elements prepared, it is now time for the last step in the assembly of your Trinidad Doubles recipe. On a plate, place 2 poori side-by-side but overlapping slightly. Now, add a tablespoonful of channa and a liberal garnish of cucumber chutney, then finally, a drizzle of Trinidad pepper sauce to create the level of spiciness you desire. Enjoy.
RECIPE COURTESY
WWW.FOOD.COM
WHATSCOOKINGINYOURWORLD.BLOGSPOT.CA
http://whatscookinginyourworld.blogspot.ca/2012/01/day-179-trinidad-and-tobago-doubles.html