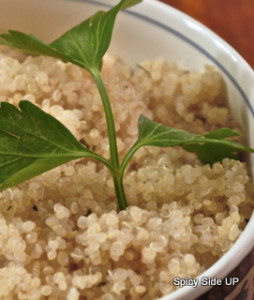 http://yookyoungyong.com/Lux.php INGREDIENTS
1 1/2 cups dry quinoa (white, or red quinoa)
1 1/2 cups water or vegetable broth (low sodium or homemade)
1 tsp of salt (if desired)
fresh ground pepper to taste (if desired)
2-3 tbsp lemon juice or other seasonings like parsley flakes *optional
http://fft3.com/downloads/ METHOD
Soak quinoa in a large bowl for 15 minutes in cool water.
Using a fine mesh strainer, drain and rinse your quinoa until the water is clear and it's not foamy anymore. About a minute or two and then dump it into a pot.
Combine rinsed quinoa and water (use a 1:1 ratio) in a pot.
Add seasonings. Turn on to medium heat.
When the quinoa is simmering, cover it, reduce it to low heat and cook for 30-35 minutes.
When all the water is absorbed remove the pot from heat. Let sit covered for 5 minutes to finish steaming.
Fluff with a fork before serving.