Kassel INGREDIENTS
Dried Thai Red Chilies – 20 or to taste (de-seeded)
Hot Water – 1/3 cup
Galangal – 1 heaping Tbsp (Ginger can be substituted but use galangal for authentic Thai flavor)
Shallots – 1/2 cup, chopped
Lemon Grass – 2 Tbsp, chopped
Cilantro Stems – 2 Tbsp
Garlic – 1/4 cup, chopped
Thai Red Chilies – to taste (optional)
Lime Leaves – 4 to 5 (Lime peel can be substituted)
Whole White Peppercorns – 1 tsp (black can be substituted)
Salt – 1 tsp or to taste
Paprika – as needed and optional for red color
Oil – 3 Tbsp
buy provigil in usa METHOD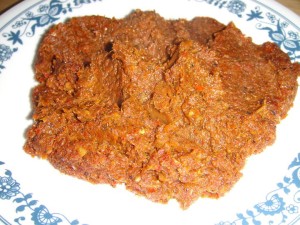 Soak de-seeded Dried Red Chilies in 1/3 cup hot water for 30 mins
Remove the soaked chilies from the water and place them along with all of the remaining ingredients (except Oil) in a blender or spice grinder. Reserve the soaking water and use it instead of plain water to help the grinding process.
Grind all of the ingredients into a smooth paste.
Heat Oil in a skillet.
Add the paste and cook it until the oil starts to separate and the paste starts to clump together
Remove from the heat and allow the paste to cool down before storing it in a clean airtight jar. Store in refrigerator for up to 1 month or freeze for up to 6 months.