INGREDIENTS FOR THE DOUGH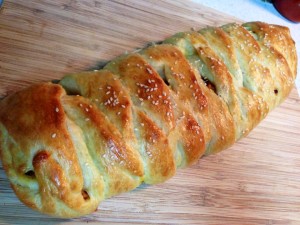 4 cups all purpose/plain flour
1 tbsp. instant yeast
2 tbsp. powdered milk
1 tsp. salt
4 tbsp. oil
egg 1 (plus 1 for glazing)
1 tsp. castor sugar
Mix all the ingredients and knead it into a soft dough with some warm water
Cover the dough and leave it rise for 1 hour.
Divide the dough into two or three depending on how big you want the loaves.
INGREDIENTS FOR CHICKEN FILLING
(you can use this filling or any filling of your choice)
1 1/2 to 2 cups chicken boiled and shredded
1 medium or 2 small onion chopped finely
1 tsp. salt
1 tsp. black pepper
2 tbsp. coriander leaves
4 chopped green chilies
1 tsp. garam masala powder
2 tbsp. flour
2 tbsp. butter
1 cup milk
Sesame seeds as required
Add 2 tbsp butter in a non stick fry pan on medium flame
Add onions and cook until they are soft and translucent
Add 2 tbsp flour with 1 tsp salt, 1 tsp black pepper, 1 tsp garam masala.
Add the milk, cook till thick
Mix in the shredded chicken
Add chopped green chilies and coriander leaves
Remove and cool completely.
MAKING THE STUFFED BREAD
Start bringing the top most slit ends across from each other alternately.
Keep going, remember to alternate, like a crisscross fashion. Left to right…right to left.
When you reach the end, leave a tail at the bottom, just for the appearance. You can just tuck everything neatly in if you like.
Grease a tray and place your breads.
Apply egg-wash and sprinkle the sesame seeds
Bake in a preheated oven at 375 deg Fahrenheit for about 45 minutes or until the bread is golden brown
SERVE HOT
TIP
Make egg wash simply by adding 2 tsp water into one beaten egg n mix well